Passion is overrated © 2010
video by Gerald Zahn & Anna Bertsch
camera: Gero Denning, lighting: Andreas Daxer
music: Raffael Francis & Carmen Lázaro
with: Harry Langreiter & Sabine Penz
DVD Pal 16:9
duration: 4 min. 30 sec.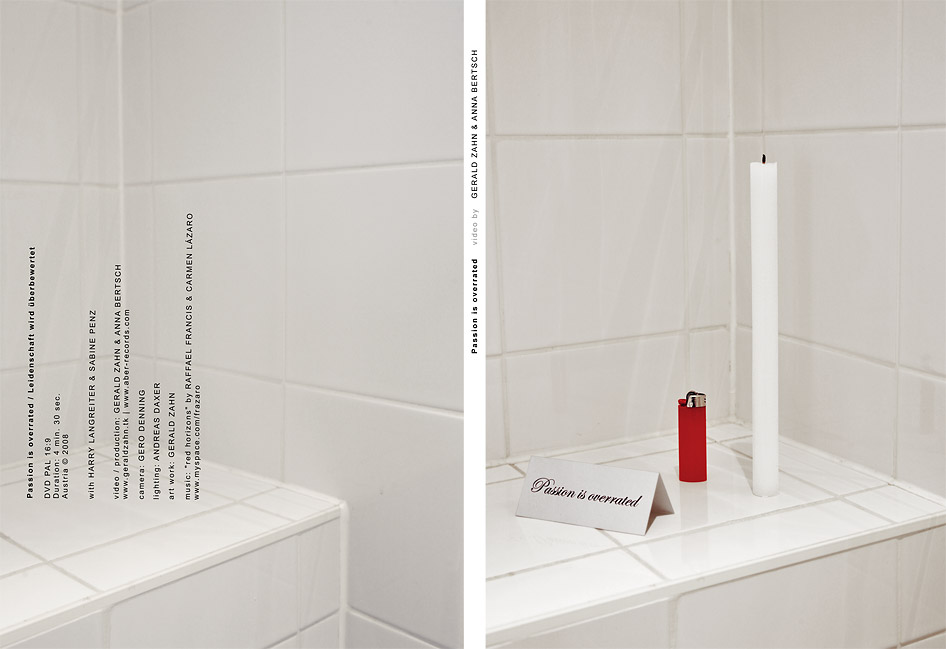 (engl. below)
Anhand dieses Textfragments entwickelten Gerald Zahn und Anna Bertsch eine konzentrierte, filmische Choreografie zwischen Zärtlichkeit und Züchtigung zur Musik des Österreich-Spanischen Duos Raffael Francis & Carmen Lázaro.
- - -
Meditative yet scrutinizing, the video focuses on the intimate gestures of the young couple, as their momentary relationship oscillates between attraction and repulsion.
Based on the quote from the song lyrics, the artists Gerald Zahn and Anna Bertsch have developed a condensed, cinematic choreography.